Dental Implants – Atlanta, GA
The Modern Solution for Missing Teeth
Over the last few decades, dental implants have become a popular option for patients looking to restore their smiles by replacing missing teeth. Unlike traditional tooth replacements, like dentures, dental implants can replace the entire structure of missing teeth from the roots upward, offering a lifelike look and feel as well as several other unique benefits. The best part is that the treatment is versatile, allowing us to restore one, several, or all of your missing teeth with a single process. Schedule a consultation today to learn whether you're a candidate for dental implants in Atlanta!
Why Choose Mazzawi Dental Intown for Dental Implants?
Advanced Dental Imaging Technology
Comprehensive Dental Care Under One Roof
Experienced with Complex Rehabilitation Cases
What Are Dental Implants?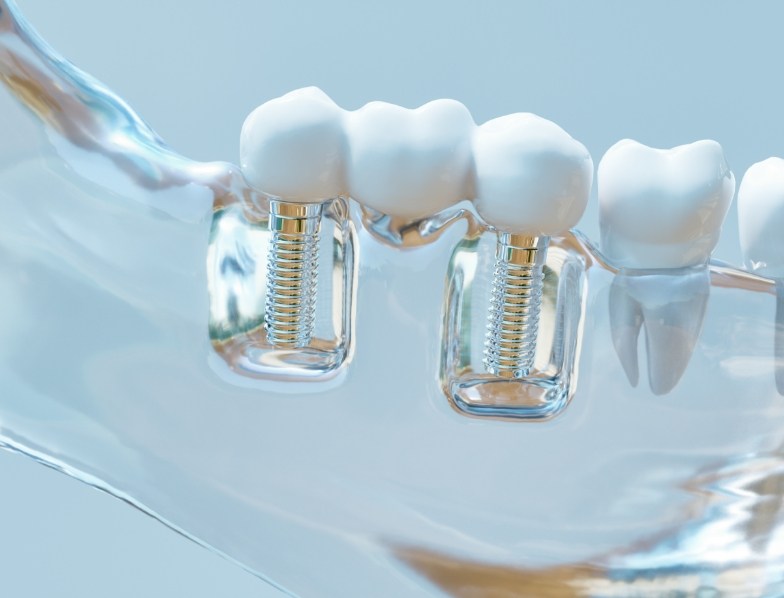 Dental implants themselves are small titanium posts that are secured below the gumline and into the jawbone to replace the missing root structure. Due to their biocompatibility, they're able to naturally fuse with the jawbone through a process called osseointegration. This provides a strong and stable foundation for replacement teeth to be secured to, improving prosthetics' stability and strength.
The 4-Step Dental Implant Process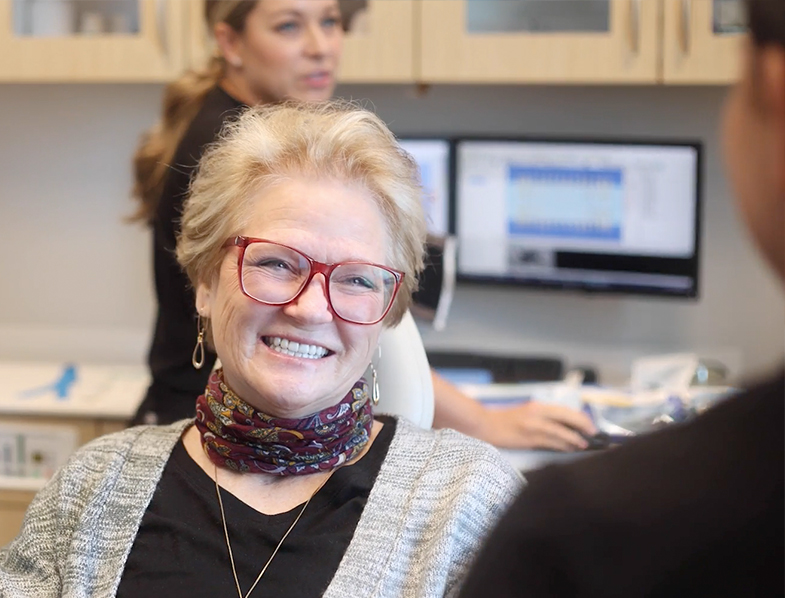 Consultation. During your consultation, our team will gather your medical and dental history and conduct a thorough examination of your mouth, being sure to also capture X-rays. This will allow them to tell whether you're a good candidate for dental implants.
Surgery. If you're a good candidate, we'll schedule your dental implant surgery as soon as possible. Depending on your case, it will either be done in-house by one of our trained professionals, or we may partner with a local specialist to place the implants.
Healing. Over the next three to six months, your implants will fuse with your jawbone through a process called osseointegration. We'll then secure small metal connector pieces, called abutments, onto the implants that will allow your restoration to clip onto them.
Restoration. As soon as we receive your custom-crafted prosthetic from our dental laboratory, we'll call you in to secure it to your implants and complete your smile.
Benefits of Dental Implants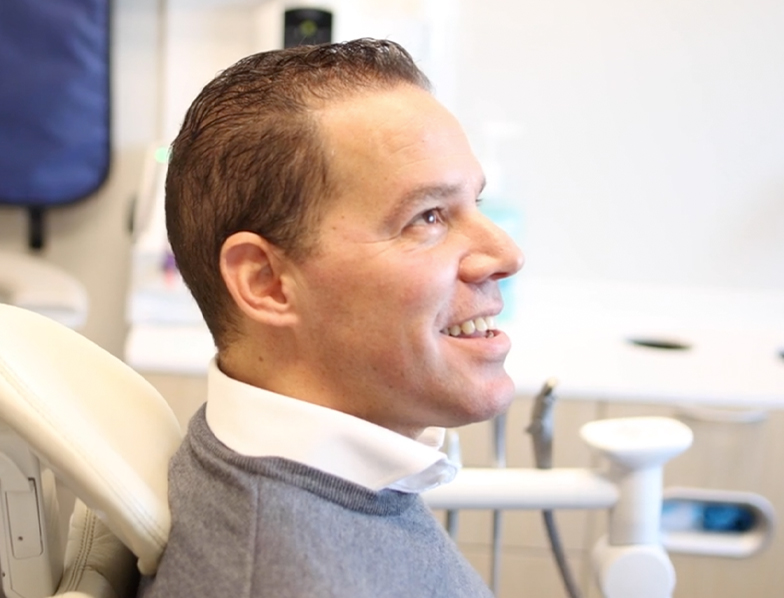 Dental implants are so popular because they offer a variety of unique benefits compared to traditional restorative treatments. Some of the advantages you'll be able to enjoy when you choose implants include:
Preservation of facial structure
Prevention of jawbone deterioration
Up to 80% restored bite power
Improved eating and speaking abilities
Natural look and feel
Great long-term investment
Ability to last 35+ years with proper maintenance
Easy to maintain
Who Dental Implants Can Help
One great benefit of dental implants is that they're an incredibly versatile treatment and a great option for patients whether they're missing one, several, or all of their teeth. The best way to learn whether you're a good candidate is to schedule a consultation with one of our friendly and experienced implant dentists in Atlanta. They'll examine your mouth and determine if and how we can restore your smile using any of the dental implant treatment methods mentioned below.
Missing One Tooth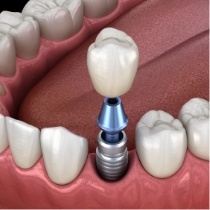 For a single missing tooth, we can place one dental implant below the gumline and into the jawbone. Once it has fused with the bone, we can secure a dental crown to the post. This will prevent the need for any alteration of your natural teeth because the restoration will be anchored to the implant itself.
Missing Multiple Teeth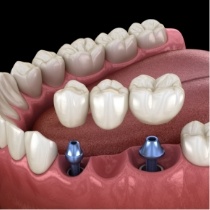 To secure a dental bridge, we can place two dental implants at either end of the gap in your smile. Instead of being anchored to your existing teeth, requiring them to be altered to accommodate a traditional bridge, we'll secure them to a foundation fused with your jawbone, making the prosthetic stronger and more stable.
Missing All of Your Teeth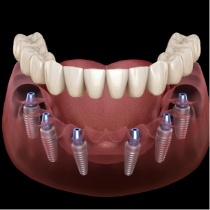 To restore an entire arch of teeth, we can secure a denture to anywhere from four to six dental implants surgically placed below the gumline. This will prevent any slipping or shifting of the prosthetic, improving your biting and speaking abilities greatly.
Understanding the Cost of Dental Implants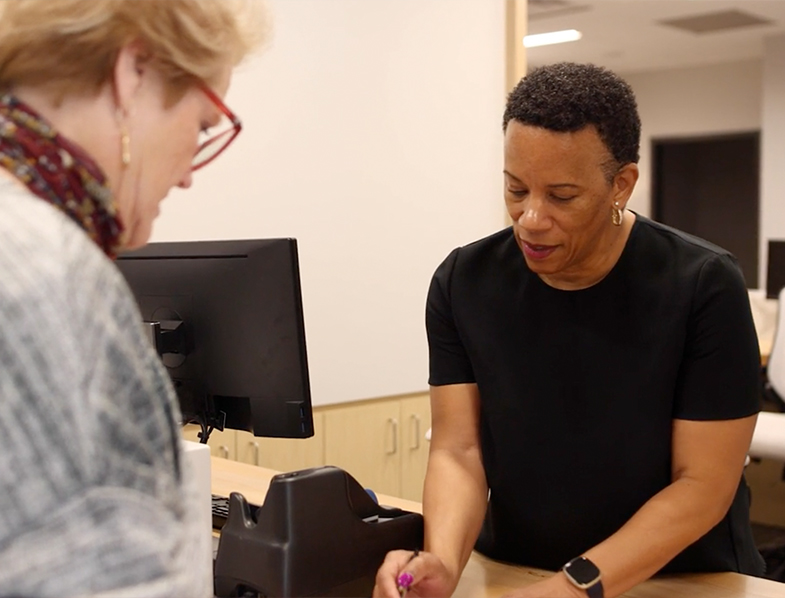 Because every tooth replacement procedure that we complete is customized to meet each of our unique patient's needs, there's no singular cost of dental implants in Buckhead. During your initial consultation, once we've had a chance to examine your mouth and determine key cost factors, like how many dental implants you'll need to have placed and which type of restoration you will require, we'll be able to provide you with a detailed cost estimate. While our team isn't in-network with any dental insurance plans, we're happy to file claims on your behalf to help maximize your out-of-network benefits.