Emergency Dentist – Atlanta, GA
Fast, Pain-Relieving Dental Care You Can Count On
At Mazzawi Dental Intown, we understand how stressful it can be to handle a dental emergency, especially because they always seem to happen when you least expect them to! With our team by your side, you can feel much more at ease because we offer same-day emergency dental appointments as well as dental sedation to restore your oral health and eliminate your discomfort. If you have a tooth infection, broken restoration, or are experiencing anything else out-of-the-ordinary, give us a call so we can help with emergency dentistry in Atlanta!
Why Choose Mazzawi Dental Intown for Emergency Dentistry?
Same-Day Emergency Dental Appointments
Sedation Dentistry Available
We See Patients of All Ages
How We Treat Dental Emergencies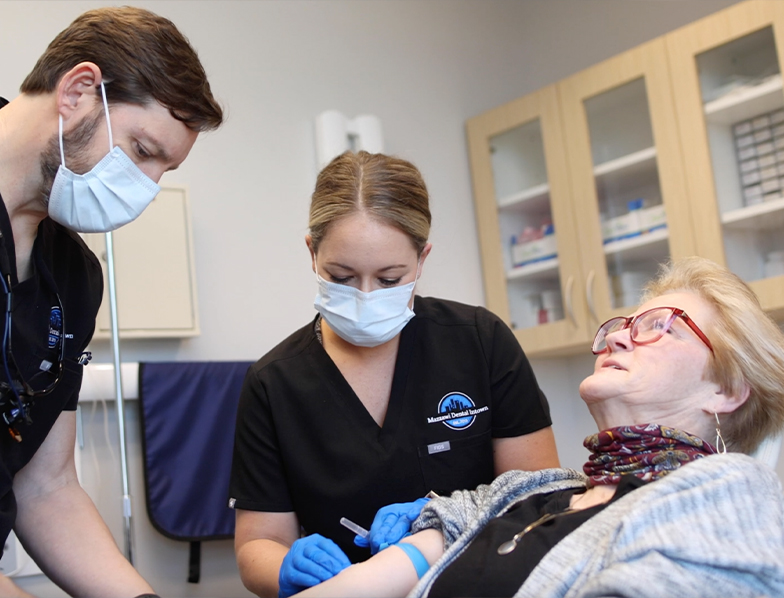 The first step you should always take if you experience a dental emergency is to contact our office. We'll schedule an appointment for you as soon as possible so we can examine your mouth and capture X-rays, if necessary. Based on our findings, we'll develop a treatment plan to help restore the health of your smile and ease any discomfort you may be feeling. Our team will also work with you to help make your visit as affordable as possible.
The Most Common Dental Emergencies
If you're unsure of whether your situation can be considered a dental emergency, don't hesitate to call our team and ask! We've also included some common emergencies that we treat below for guidance. That way, you can receive the timely treatment you need to minimize your chance of worsening oral health problems.
Understanding the Cost of Emergency Dentistry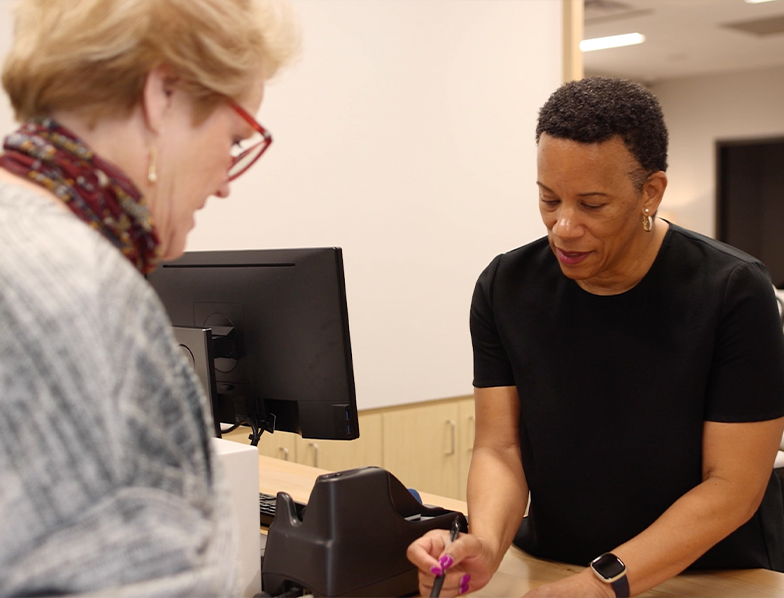 If you're concerned about the cost of emergency dentistry in Atlanta, please know that we're here to help. In addition to providing you with gentle, efficient care and alleviating your pain, we will provide you with an estimate of the cost and answer any questions you have about your financial options. You are always welcome to give our team a call with any concerns you have as well. Or, you can read on to learn more about the price!
Why Every Dental Emergency is Different
The short answer is that there's no set cost of dental emergencies in Atlanta because your treatment will be determined by the issue that you face and what treatment you require. After all, there is more than one way to address the same problem. For example, a cavity can be fixed with a filling or a root canal depending on the extent of the damage.
Once we've made a diagnosis and outlined a plan to address the problems at hand, we'll provide you with a detailed cost estimate before executing the treatment plan.
Does Dental Insurance Cover Dental Emergencies?
It's common for dental insurance providers to cover a portion of the cost. In fact, some patients have upwards of 80% of the cost of essential restorative care covered after they've met their deductible! If you aren't familiar with your coverage, it can be helpful to review the fine print on your plan or ask our team for help. We're happy to file claims with your dental insurance on your behalf, although, we're not in-network with any insurance plans.
Other Options for Making Dental Emergencies Affordable
If you aren't currently insured, don't worry – that doesn't mean you'll be stuck with a massive bill at the end of your appointment. In fact, CareCredit is a third-party financier that's helped millions of patients prevent that from happening. Since they offer a wide range of payment plans, it should be easy to find one that suits your monthly budget. You may even qualify for one with little-to-no interest attached! If you have any questions about flexible financing, don't hesitate to let us know so we can help.
How Taking Care Of Your Smile Can Save You Money
Although you can't avoid accidents entirely, you can avoid some dental injuries entirely! One example is tooth decay. Since it's largely preventable, habits like brushing twice a day, flossing daily, and rinsing with mouthwash regularly can save you from costly and time-consuming treatments. For the same reason, we recommend wearing a mouthguard during sports, not smoking, and keeping your consumption of sugar to a minimum – it's imperative to keeping your smile healthy!
Keys to Preventing Dental Emergencies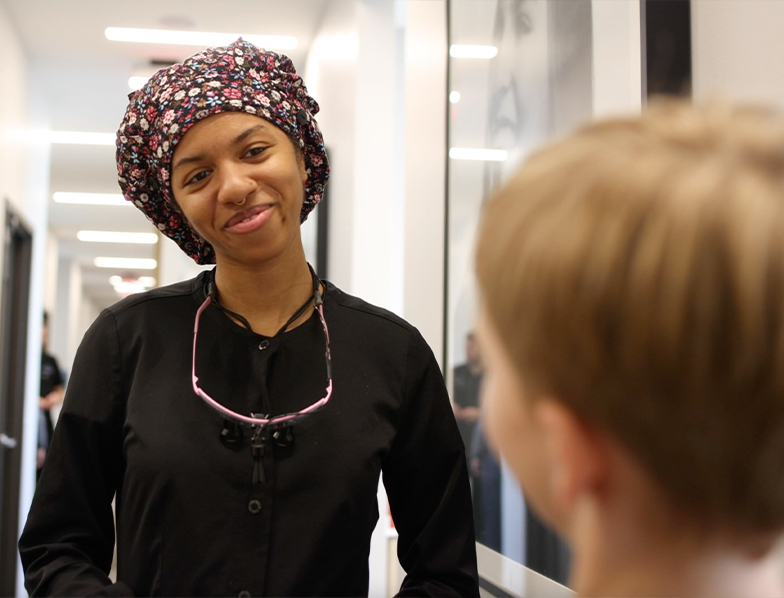 While there's no way to completely avoid experiencing a dental emergency in Buckhead, there are several preventive steps you can take to minimize your risk of ending up in our treatment chair, including:
Visit us regularly for dental checkups and teeth cleanings
Maintain a good at-home oral hygiene routine
Eat a balanced diet
Avoid bad oral habits, such as smoking
Don't chew on hard items, like pens and ice
Protect your teeth from bruxism or during contact sports
Dental Emergency FAQs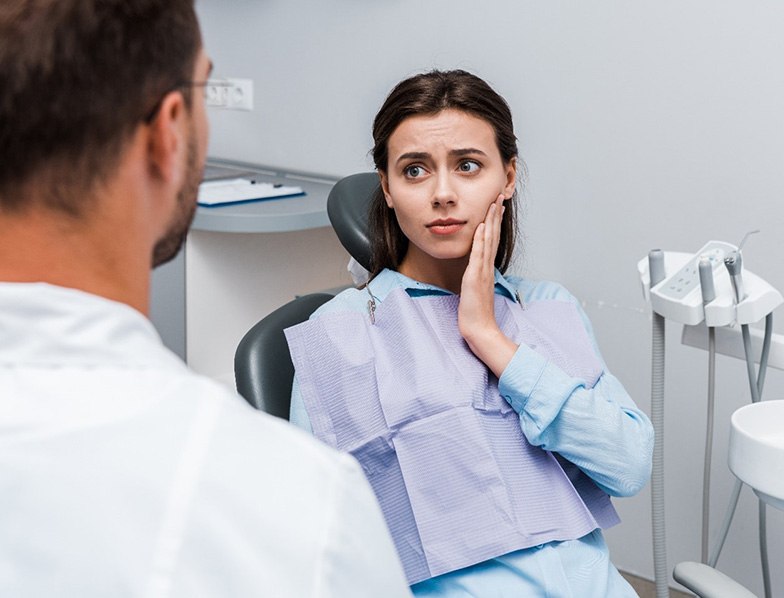 Amid a dental emergency, it can be difficult to remember where to turn for treatment and what to do from home. That's why we recommend calling our Atlanta dental team ASAP – we can guide you through what to do step-by-step. Of course, if you simply want to learn as much as possible about emergency dentistry so you're prepared in case you do sustain a dental injury, then you can also read on!
How should I sleep with tooth pain?
If you're struggling with a toothache, even a minor one, you should give us a call. The sooner you do, the sooner we can pinpoint the cause and restore your pain-free smile. With that said, there are a few steps you can take to get a good night's sleep if you have a day or two until your appointment. That starts with not eating anything crunchy at dinner and extends to taking OTC pain medication 30 minutes before bed and keeping your head elevated by propping yourself up on some pillows when you sleep.
Should I visit the emergency room first for dental emergencies?
Most dental injuries should be handled by your dentist since hospitals don't typically have dental professionals on-staff. However, there are a few exceptions, including if you're experiencing a potentially life-threatening symptom. Difficulty breathing, trouble swallowing, uncontrollable bleeding, and a fractured jaw all require medical attention and do warrant a visit to the ER.
Do chipped teeth heal?
Chipped teeth do not "heal" since enamel cannot regenerate on its own. Fortunately, we offer multiple treatments that can restore the missing structure of your tooth, including cosmetic dental bonding and veneers. As a result, the look and function of your smile won't be compromised for long.
Can I fix dentures that are broken in half?
If your dentures have broken in half, do not attempt to repair them with an at-home denture repair kit or a household adhesive, like super glue. Instead, schedule an appointment with the dentist who made your dentures and wear your spare ones in the meantime (if you have them).
Should knocked-out teeth be placed in water?
Since water doesn't preserve the root of the tooth, it's not recommended. Instead, you should place your knocked-out tooth in a small, clean container that's filled with milk. If that's not available, then you can also preserve the root by placing the tooth back in its socket. Note: if it doesn't slide back into place easily, don't force it!
What is causing my jaw pain?
Chronic jaw pain often is the result of an impacted wisdom tooth, chronic teeth grinding, or TMJ dysfunction. If you've been experiencing discomfort for more than 24 hours now, then it absolutely warrants a call to our Atlanta dental office. When you come in for your appointment, we can take X-rays and examine your teeth to determine the source. Then, we can review the available treatment options and create your treatment plan.